April 25, 2019 | 2880 Wines
Vietnamese Fresh Spring Rolls
Vietnamese Fresh Spring Rolls
Recipe makes 8 rolls
Spring Rolls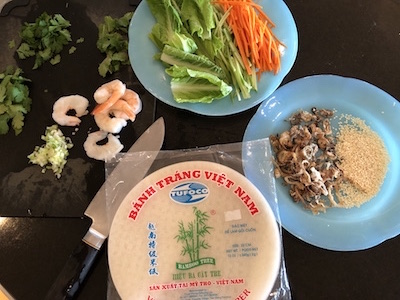 8 cooked, peeled, and chilled shrimp
8 sheets Vietnamese rice paper
8 small lettuce leaves
1-2 cucumbers, julienned
1-2 carrots, julienned
16 mint leaves
16 basil leaves
Leaves from 8 sprigs of cilantro
4 green onions, finely chopped
2-3 T sesame seeds, lightly toasted
Fried shallots* (an optional, and delicious addition)
Slice shrimp in half lengthwise, so you have two butterflied halves
Dampen one sheet of rice paper by quickly putting it under running water. If it gets too soft, you won't be able to roll it
Lay the dampen rice paper on a clean, flat surface and rub it slightly to soften it just enough to work with.
Place two halves of the shrimp side by side to form a line across the bottom third of the roll. Place the other ingredients next to and on top of the shrimp and then roll tightly, folding in the sides halfway through, to enclose the filing. Seal with a little water if necessary.
Cut the rolls in thirds and serve with the dipping sauce.
Dipping Sauce
Combine:
2 T fish sauce
2 T water
1-2 T fresh lime juice, to taste
1 T sugar
1-2 teaspoons finely chopped red chili or jalapeno, to taste
1-2 teaspoons finely chopped garlic, to taste
Fried Shallots
Thinly slice shallots with a mandolin.

Sun-dry them for half a day or put in a 120° oven for an hour (They're still good it you omit this step.)

Dredge in potato starch

Fry in vegetable oil until golden brown and crispy. (Be careful not to let them burn.)

Drain on paper towel.
Comments
Commenting has been turned off.